3 hour Sunset Sailing Cruise. Sailing from 4-7 each day.
5
.
6 reviews
Watching the reds, oranges, and yellows of the sky as the sun sets over Gloucester Harbor is a spectacular sight.
Do you know what elevates the amazing sight of a sunset even more?
A sunset cruise!
Sunset cruises offer a fun and satisfying experience of being on a boat during the intriguing and dramatic sunset hours.
But what exactly are sunset cruises? Read on to find out all you need to know about taking a cruise at sunset and if it's right for you!
Why Take a Sunset Cruise?
Taking a cruise at sunset is the perfect way to see the take in the bold colors, see the view of the shore from the water and make some fantastic memories. Here are some reasons you should definitely take a sunset cruise.
Positive Vibes
Sunset cruises are all about positive energy—laughter, smiles, relaxation, and entertainment. It's nearly impossible to experience a sunset cruise and leave feeling anything less than completely satisfied. You might feel a little sad, but it's only when the cruise is over lol!
Great Vacation Experience
Taking a cruise at sunset is one of the great opportunities of being on vacation. It's a great way to see the nearby coastline from the water and learn more about the place you are visiting.
For an extra special outing, book a cruise at sunset on the day you arrive or the day you depart—the memories will certainly be extraordinary!
Celebrate Events
What better way is there to celebrate a special event or occasion that to plan a cruise at sunset? Being on the water, taking in the scenery, and watching the sky's vibrant colors is a great way to emphasize the festive feel of the day!
For Inspiration
A boat cruise, especially a sunset cruise, is a great moment to reflect on life. It makes you feel positive, grateful and inspired, and open to all the other wonderful experiences life has to offer.
What Occasions Can You Celebrate on Sunset Cruises?
There is no limit to the reasons to take a sunset cruise. Here are some of the occasions, events, and special days you can celebrate with a sunset cruise.
Date Night
Of all the romantic date ideas, taking your beloved on an enchanting sunset cruise will win every time! To be on the water is a great way to spend an evening date, and pair that with the ultimate romantic sunset, and it's guaranteed to be a date you'll remember forever. Want to pop the question—consider a sunset cruise.
Birthdays
Trying to find an experience that will add some pizazz to a loved one's birthday celebration? Look no further than a sunset cruise. The magical orange and red-tinged sky is the perfect backdrop for a magical and unforgettable birthday.
Retirement
What better way to celebrate your retirement than to book a cruise that will take you off into the sunset! It's a great way to say goodbye to one phase of your life and onto the next.
Work Celebrations
Maybe you got a big promotion, saying goodbye to a colleague, or need to do something fun to celebrate the completion of a big, successful project. When nothing short of extraordinary will do, a sunset cruise just might be the answer!
Romantic Evening for Two
Having a drink and delicious appetizers on a cruise while watching the sun set below the horizon is nothing short of magical. It's the perfect place for a combination of great food, good company, and one of nature's greatest shows.
Nature Exploration
Our waters are full of vibrant marine life and the dusk hours can be the perfect time to see them in action. Watch the egrets returning to their nests on Ten Pound Island and see the fish taking their last jumps before the sun fully sets.
Gloucester Sunsets aboard ARTEMIS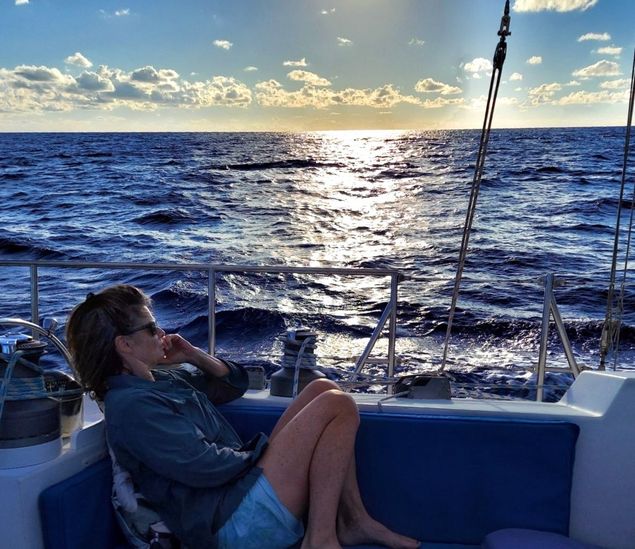 How better to end that wonderful day than with a relaxing sunset aboard ARTEMIS
Sunset over the mainland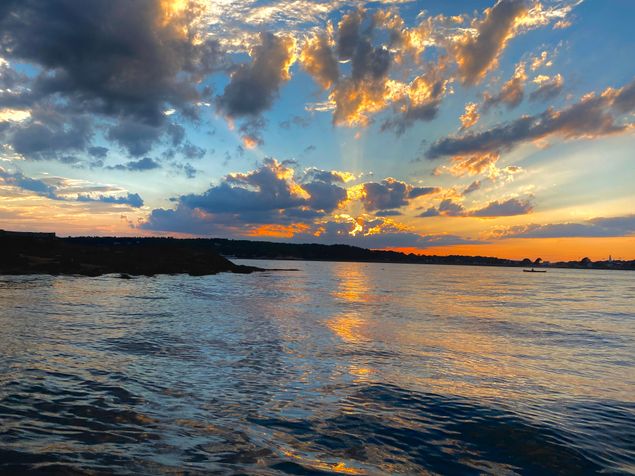 Sun set, moon rise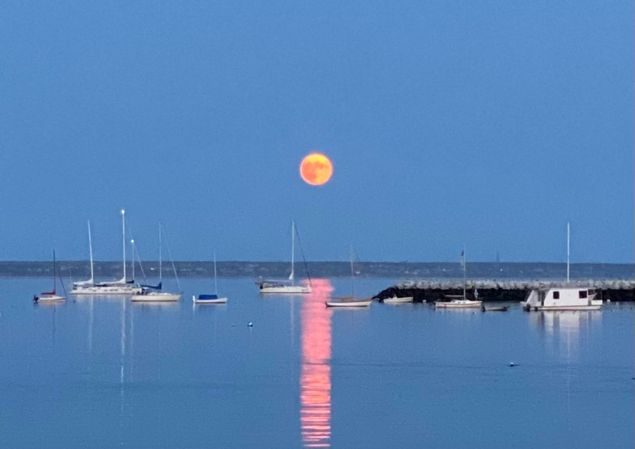 Aboard a true sailing vessel like Artemis, an exact itinerary would be difficult to make. To enjoy the true essence of sailing, we must sail in the direction that the wind offers us. Whichever direction in which we travel, there will be much to see and lots to learn about sailing and marine life as well as the history of our area
We are a family owned and operated business and have been operating our own vessels for over 40 years!. Captain Rick and Deb are on every cruise aboard Artemis and we love what we do! Let us show you our beautiful sailing vessel and offer you a chance to get close with the natural beauty of Gloucester, Massachusetts and the North Atlantic Ocean.
Twenty years from now, you will be more disappointed by the things that you didn't do, than by the ones you did do. So, throw off the bowlines. Sail away from the safe harbour. Catch the trade winds in your sails. Mark Twain
Awesome Charcuterie Board. Delicious Cheeses, meats, crackers and jams!
Alcoholics Beverages, you can bring your own.

Sweet sodas, you can bring your own.

Gratuity for the 1st Mate. 20% for great service!
Frequently asked questions
PRICING
Rates are for the boat, captain, and crew, not per person, and are based on one to six passengers. Above mentioned meal is included. Additional hours: $200/per hour Gratuity for the First Mate is not included; at least 20% is recommended.
Rates are for the boat, captain, and crew, not per person, and are based on one to six passengers. Above mentioned meal is included. Additional hours: $200/per hour Gratuity for the First Mate is not included; at least 20% is recommended.
6 Reviews

Verified