Who we are
Gloucester Sailing Charters
Welcome to Artemis Sailing Charters. We are glad you stopped by! Artemis is pleased to offer Gloucester sailing charters in the beautiful blue water of the Atlantic Ocean. Join us for a sailing adventure from Gloucester Harbor as we explore New England's rocky coastline and picturesque islands.
We have over 40 years of sailing experience and are excited to share the joy of sailing with our private charter guests. Join us for an afternoon sail, an overnight sail, or a romantic sail at sunset. You'll sail in comfort on Artemis, our gorgeous 64-foot sailing yacht.
Unlike many structured public sails in Gloucester Harbor, sailing with Artemis private charters offers a personalized experience. Whether you are looking for a three-hour sail or a multi-day adventure, you'll enjoy a relaxing, fun, and memorable luxury yacht charter experience. The experienced crew is passionate about New England sailing and will let you have as much involvement in raising the sails and steering the boat as you desire.
Explore our Gloucester Sailing Options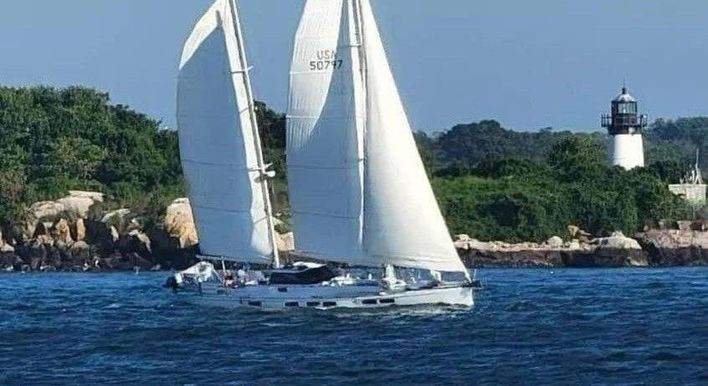 We welcome you aboard ARTEMIS for a 4 hour voyage departing from and returning to beautiful Gloucester harbor. If you've ever heard the term" we'll go where the wind takes us" well then you'll begin to understand that our direction of sail or itinerary is based on the direction from which the wind is blowing. Whether it's sailing down the coast to Marblehead or Salem, heading offshore to get away from land and search for marine life or working our way up to the magnificent twin Lighthouses of Thatchers Island, you will have much to see. Maybe you'll want to learn a little about sailing a take a turn at the wheel! It seems that we're often hungry at sea and you'll love our yummy and healthy sandwich wraps served on deck. We will provide still and carbonated water but feel free to bring some beverage of your choice to stock in the ice chest.
6 Reviews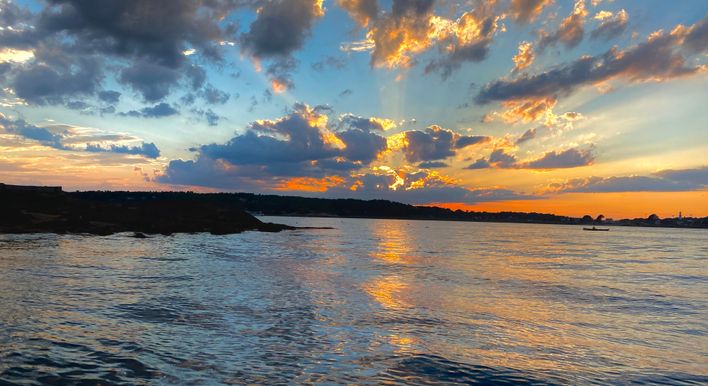 Watching the reds, oranges, and yellows of the sky as the sun sets over Gloucester Harbor is a spectacular sight.
Do you know what elevates the amazing sight of a sunset even more?
A sunset cruise!
Sunset cruises offer a fun and satisfying experience of being on a boat during the intriguing and dramatic sunset hours.
But what exactly are sunset cruises? Read on to find out all you need to know about taking a cruise at sunset and if it's right for you!
Why Take a Sunset Cruise?
Taking a cruise at sunset is the perfect way to see the take in the bold colors, see the view of the shore from the water and make some fantastic memories. Here are some reasons you should definitely take a sunset cruise.
Positive Vibes
Sunset cruises are all about positive energy—laughter, smiles, relaxation, and entertainment. It's nearly impossible to experience a sunset cruise and leave feeling anything less than completely satisfied. You might feel a little sad, but it's only when the cruise is over lol!
Great Vacation Experience
Taking a cruise at sunset is one of the great opportunities of being on vacation. It's a great way to see the nearby coastline from the water and learn more about the place you are visiting.
For an extra special outing, book a cruise at sunset on the day you arrive or the day you depart—the memories will certainly be extraordinary!
Celebrate Events
What better way is there to celebrate a special event or occasion that to plan a cruise at sunset? Being on the water, taking in the scenery, and watching the sky's vibrant colors is a great way to emphasize the festive feel of the day!
For Inspiration
A boat cruise, especially a sunset cruise, is a great moment to reflect on life. It makes you feel positive, grateful and inspired, and open to all the other wonderful experiences life has to offer.
What Occasions Can You Celebrate on Sunset Cruises?
There is no limit to the reasons to take a sunset cruise. Here are some of the occasions, events, and special days you can celebrate with a sunset cruise.
Date Night
Of all the romantic date ideas, taking your beloved on an enchanting sunset cruise will win every time! To be on the water is a great way to spend an evening date, and pair that with the ultimate romantic sunset, and it's guaranteed to be a date you'll remember forever. Want to pop the question—consider a sunset cruise.
Birthdays
Trying to find an experience that will add some pizazz to a loved one's birthday celebration? Look no further than a sunset cruise. The magical orange and red-tinged sky is the perfect backdrop for a magical and unforgettable birthday.
Retirement
What better way to celebrate your retirement than to book a cruise that will take you off into the sunset! It's a great way to say goodbye to one phase of your life and onto the next.
Work Celebrations
Maybe you got a big promotion, saying goodbye to a colleague, or need to do something fun to celebrate the completion of a big, successful project. When nothing short of extraordinary will do, a sunset cruise just might be the answer!
Romantic Evening for Two
Having a drink and delicious appetizers on a cruise while watching the sun set below the horizon is nothing short of magical. It's the perfect place for a combination of great food, good company, and one of nature's greatest shows.
Nature Exploration
Our waters are full of vibrant marine life and the dusk hours can be the perfect time to see them in action. Watch the egrets returning to their nests on Ten Pound Island and see the fish taking their last jumps before the sun fully sets.
6 Reviews
Sailing In New England
There are many reasons to take our Coastal Sailing Voyages company's tours in Gloucester, Massachusetts. The first reason is that our tours are a great way to see the beautiful coastline of Massachusetts. Our tours give you the opportunity to see the coastline up close, from the water. You'll get to see the waves crashing against the rocks, the seagulls flying overhead, and the dolphins swimming in the distance. Our tours are also a great way to learn about the history of Gloucester. Our knowledgeable guides will tell you about the city's history and its place in the American Revolution. You'll also learn about the fishing industry and the city's role in the development of the New England fishing industry.
Relaxing
Coastal Sailing Voyages offers a variety of ways to help you relax on your sailing trip. From massages and yoga to meditation and relaxation therapy, we have something for everyone.
Coastal Sailing Voyages offers a variety of ways to help you relax on your sailing trip. From massages and yoga to meditation and relaxation therapy, we have something for everyone.
Fun
We believe that sailing should be fun! We offer a variety of activities and amenities onboard our vessels to make sure you have a great time.
We believe that sailing should be fun! We offer a variety of activities and amenities onboard our vessels to make sure you have a great time.
Safe
Safety is our number one priority. We have experienced captains and crew members who know the waters we sail and are committed to keeping our passengers safe.
Safety is our number one priority. We have experienced captains and crew members who know the waters we sail and are committed to keeping our passengers safe.
We recently sailed with Capt. Rick and his lovely wife Deb on a 6 hour Whale Watch experience that DELIVERED! It was easily one of the best trips of our extensive travels. Both Rick and Deb work diligently to make you feel at home on their exquisite boat. Fantastic lunch, beautiful seascape, and whales! Rick leverages his more than 40 years on the sea to ensure the best possible results. The boat is pure luxury and the sailing ensures a quiet and intimate experience at sea. The trip was personalized to celebrate our daughter's 23rd birthday and she was happy beyond our expectations. There is no better way to spend time on the water in the Boston area. We WILL do this again!
Artemis S.
10th June 2022
Captain Rick and his wife Deb, are world class sailors and the 64 foot artemis is a top notch Ketch that sails smooth and fast and was designed to sail around the world . You will totally enjoy your experience if you go for a day sail or a longer down east cruise I highly recommend this business Art graves
The boat is incredibly comfortable and well organized below deck, though we spent the majority of our time on the spacious deck., the Artemis is beautiful! We found captain Rick incredibly knowledgeable about everything on the ocean and Deb was so warm and made us feel right at home aboard the Artemis. My youngest was initially hesitant and ended uphaving the best time. We all did and can't wait to return. No better wayTo explore the area from such an incredible vantage point. Highly recommend for a family, young and old alike!!
Jennifer M.
4th April 2022
Best experience ever!!! Rick and Deb are you fun and nice. They made me feel so Comfortable on a boat for the first time. The trip was beautiful and so much fun!!! Definitely recommend
What a trip we had! Such a unique experience and beyond relaxing! We could be as involved as we wanted or just the opposite. Found time to practice yoga and mindfulness while sailing and the food was so wonderful! The boat has so many different areas to relax and enjoy the scenery. The hosts/captains clearly love what they do and it shows in the quality and authenticity of the charter! Highly recommend this husband and wife team and Artemis!
What a great experience we had aboard the Artemis. We went on a trip from Florida to Winthrop Massachusetts. The way the boat is arranged made it perfect for the large group. The boat sails so well. There is a ton of space for people to spread out all over the cockpit and deck. The boat has a area where it can be run from enclosed space in bad weather. Rick and Deb make a fantastic team. Rick is very knowledgeable captain who has sailed all over the world. Deb is a fantastic cook and a great first mate. I believe she is currently studying to get her own captains license. We are looking forward to booking our next trip. Thank you
Previous
Next
Location
Sailing Around Gloucester, Massachusetts
Sailing in New England is a popular activity, and plenty of colorful sails will dot the coastline from Cape Ann to Cape Cod during the sailing season. Heading offshore with the wind in your sails is an excellent way to search for marine life and explore the shoreline. Fresh seafood is abundant in New England, and visitors can watch as the fishermen bring in their daily catch at America's oldest seaport at Gloucester Harbor.
Exploring off the coast of Cape Ann calls to plenty of sailors who hoist their sails and head to Thatchers Island to see the twin lighthouses and protected wildlife refuge. Summer is a wonderful season for future sailors who want to learn to sail. The New England sailing community offers lessons and public sails where visitors can enjoy a sail before purchasing a boat.
Frequently asked questions
Most frequent questions and answers
Recent news
There are plenty of exciting destinations for fun day trips in New England. However, can you find the perfect combination of charm and romance in the Northeast for a couple's day trip? Well, you are in luck! We found the…
Are you looking to switch up your routine? Spice up your weekend getaway from Boston with our fun-certified itinerary. We included nine top weekend getaways from Boston to help you relax and unwind before the weekend ends! Exploring the picturesque…
Are you experiencing burnout? How about a quick relaxing gateway to Gloucester, Massachusetts? From Idyllic beaches to delicious food, historical landmarks, and quaint streets, you will have enough activities to unwind and recharge. So, pack a travel bag, grab your…
Book a tour online now and join us this summer for an unforgettable experience aboard ARTEMIS
.
Captain Rick and Deb will take you on a memorable journey along the coast of Gloucester